EASTER WEEKEND - ICE FISHING TROUT DERBY - Flights, Accommodations, and Derby Fees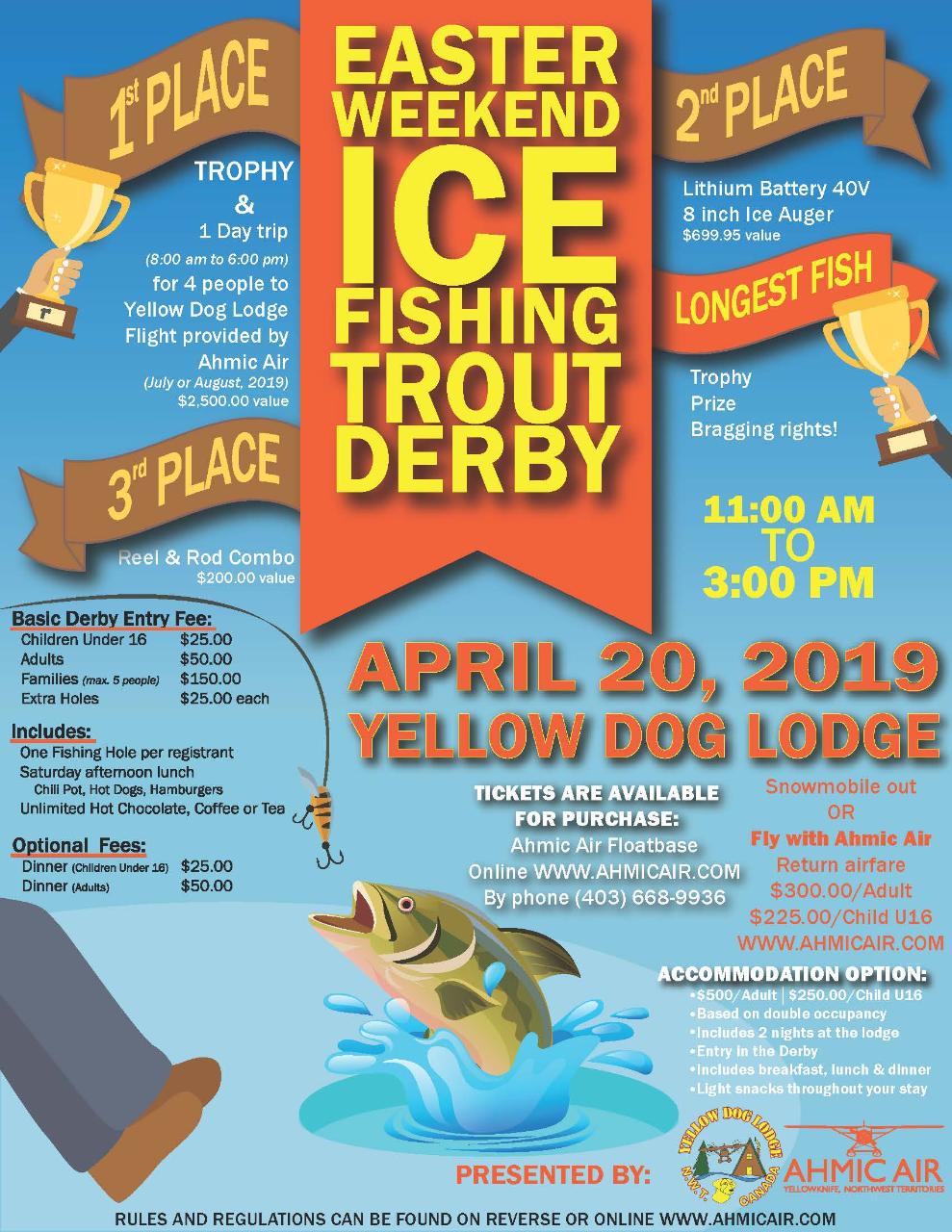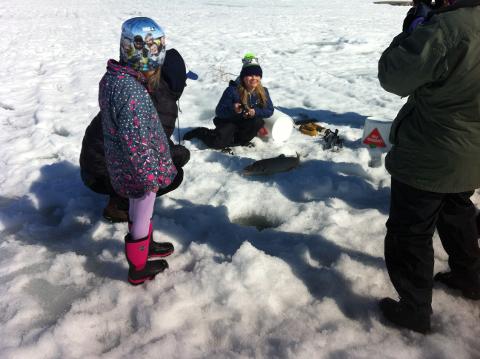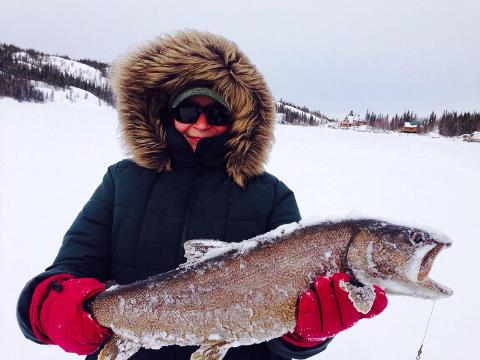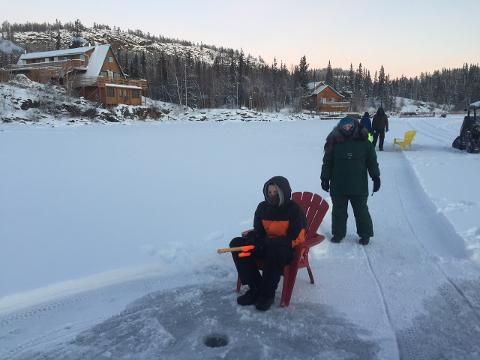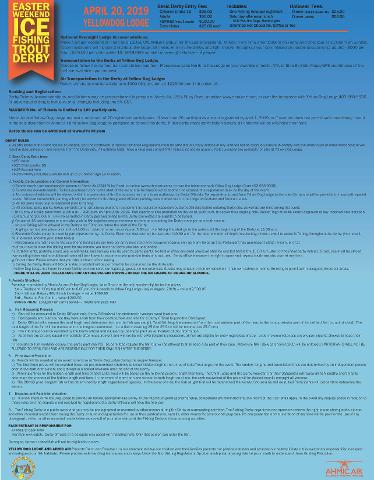 Duration: 40 Minutes (approx.)
Location: Yellowknife, NT
Product code: DERBY-CEN9toYDL
2019 EASTER WEEKEND ICE FISHING TROUT DERBY
Bypass the snowmobile ride and Fly out to Yellow Dog Lodge on board one of our ski equipped aircraft to participate in the 2019 Easter Weekend Trout Ice Fishing Derby.
Scheduled charters are being sold by the seat for this event from Yellowknife to Yellow Dog Lodge. Seating will be assigned by Ahmic Air on one of our ski equipped Beaver or Cessna aircraft. You may choose to fly out and back on April 20th for the Derby or extend your stay at the lodge and fly out on either Friday (19th) or Saturday and return to Yellowknife on Saturday or Sunday (21st).
All charter costs are inclusive of all fees, charges and the 5% GST. Adults airfare will be $300.00 inclusive per adult and for children under 16 years of age $225.00 inclusive. Each passenger may bring with them up to 50 lbs in luggage and gear. Please have on appropriate winter clothing for the day.
You can expect the flight to Yellow Dog Lodge and the return flight to Yellowknife to be approximately 18-20 minutes in duration, each way.
You may as an add on item to your flight booking also book Derby Entry Fees and/or optional accommodation fees through this booking if you wish. If you book accommodation, the Derby Entry Fee is included with the cost of accommodation. You may also arrange Derby Entry and Accommodations through Yellow Dog Lodge – 403.668.9936
FLIGHT DURATION:
Approximately 18-20 minutes of flight time and 25 minutes, dock-to-dock.
FLIGHT CAPACITY:
We have the maximum capacity of moving 13 people per time slot based on a first come, first served basis. Our Cessna aircraft holds 1-3 passengers, and our Beaver aircraft holds 1-5 passengers.
WHAT YOU SHOULD BRING:
-Camera,
-Appropriate Clothing for the day,
CHARTER RATE:
This scheduled charter is sold by the seat. Unless you purchase all available passenger seats on an aircraft this is a shared charter. Seating assignment is determined by the flight crew; each passenger will have a window seat. If you have any questions concerning our Tariff, rates, and/or policies please contact us. You may also request a copy of our tariff or view the tariff we have posted to our company's homepage. info@ahmicair.com 867-920-4400
Per Person Cost: 300.00 per Adult, $225.00 per Child (Under 16) - Inclusive of all charges, fees, and 5% GST.
DEPARTURE LOCATION:
We operate our skiplanes from our dock located at 3514 Wiley Road on Yellowknife's Back Bay across the street from the Wildcat Cafe. We do have parking onsite.
CHECK-IN TIME:
Please arrive at our dock in time to check in 20 minutes prior to the flight time you have booked.
ONLINE BOOKING AND PAYMENTS:
When booking online, payments to Ahmic Air may be made through Visa, MasterCard or the
Paypal gateway. Our online booking policy for flight products based from Yellowknife, NT is to collect the entire charter fee at the time of booking. All fees are in Canadian dollars and all advertised prices are inclusive of all service charges, fees, and the 5% Goods and Services Tax (GST).
Please call us if you would like to look into either an alternate booking time other than the ones showing in our online inventory, arrange an alternate pick up location, arrange alternate payment method or simply just want to ask us a few questions. 867-920-4400
CANCELLATION POLICY:
Should for any reason the Easter Weekend Trout Ice Fishing Derby at Yellow Dog Lodge be cancelled we will provide a full refund of any services purchased.
When the cancellation is made less than 5 days prior to the planned departure of the flight, 30 % of the total air transportation contract price will be retained by the carrier as a cancellation charge.
When the cancellation is made more than 15 days prior to the original contracted departure, booking fees received by the carrier may be applied to flights booked to depart within an additional 30 days of the original contracted departure date; otherwise 30% of the total air transportation contract price will be retained by the carrier as a cancellation charge.
When the cancellation is made 15 days or less prior to, the planned departure, 30% of the total air transportation contract price will be charged by the carrier as a cancellation charge.
WEATHER DELAYS AND UNFORESEEN CIRCUMSTANCES:
In situations where Ahmic Air must cancel a tour due to weather or other unforeseen circumstances the customer will be provided with a full refund of all booking fees collected or if they wish, the opportunity to reschedule and apply their refund to a new booking.
If you have any questions concerning our Tariff, rates, and/or policies please contact us. You may also request a copy of our tariff or view the tariff we have posted to our company's homepage. info@ahmicair.com 867-920-4400
http://www.ahmicair.com/derbyrules.pdf